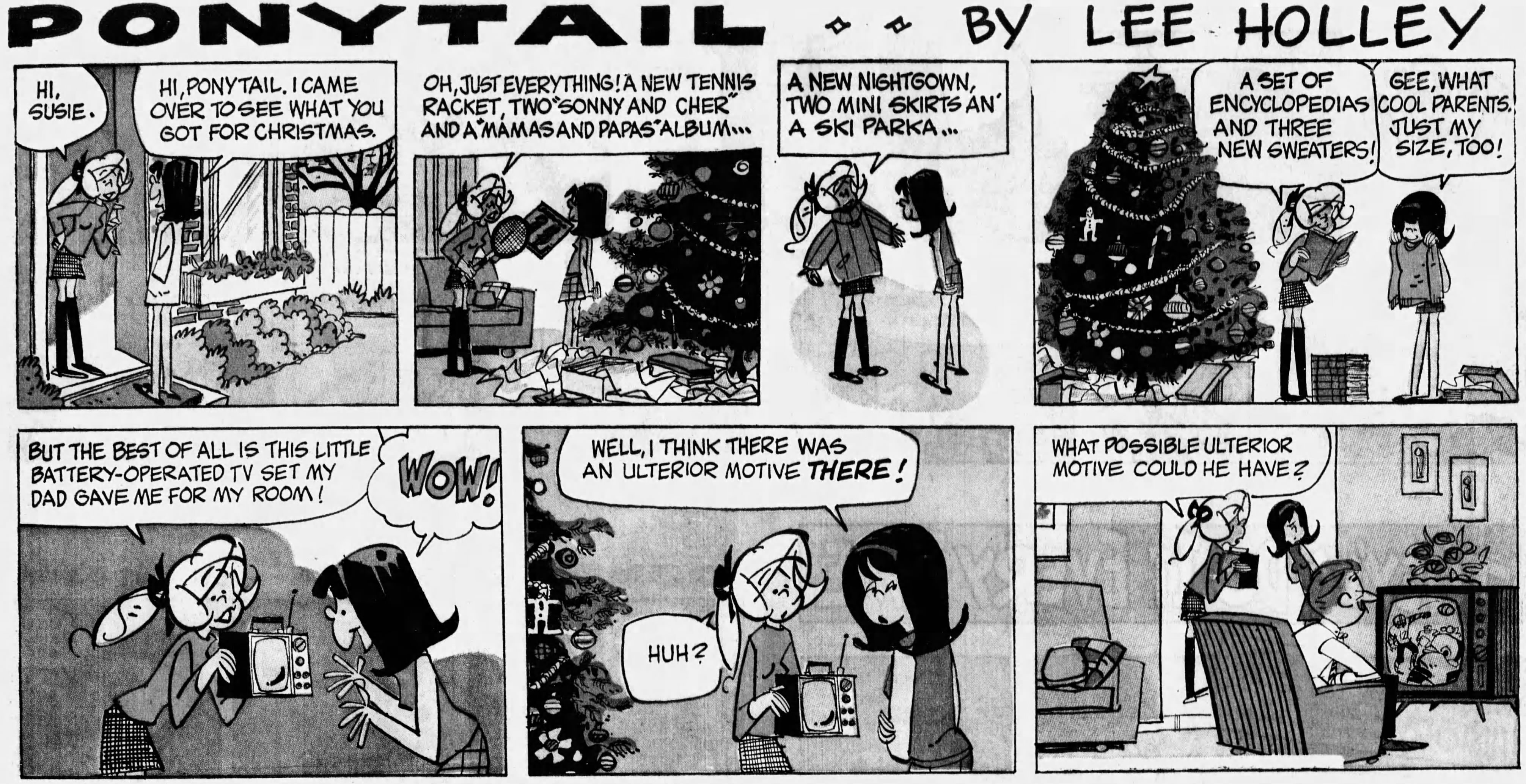 Click the image to see a larger version.
Ponytail was a fairly standard gag-a-day comic about a teenage girl and her on-and-off (sometimes within the span of hours) boyfriend Donald. The strip and its creator Lee Holley are not well known, though Holley did have quite an interesting career. He started drawing comics in his teenage years, and even sold a few, and after serving in the Navy in World War II, he began working at Warner Bros. on various Looney Toons shorts. He continued to try and sell comics during his years there, and his work eventually caught the eye of Hank Ketcham, creator of Dennis the Menace. Ketcham hired him on to assist not only with the strip, but also with the Dennis the Menace Little Golden Books and various Dennis advertisements. While working with Ketcham, he also did one-off gag comics on the side for Teen Magazine, where the character who would become Ponytail developed. He was able to sell the Ponytail idea to King Features, and Ponytail began in November of 1960. Ketcham offered to keep Holley on as an assistant for as long as he was willing, and Holley did still work on Dennis for another year, but it wasn't long before Holley decided to focus entirely on Ponytail. It was fairly popular and ran for a couple decades, but eventual waning interest caused the syndicate to pull the plug in 1988.
Holley learned quite a bit about comic strips from Ketcham, and the influence is clear in Ponytail. Holley only worked on the Sunday Dennis strips, as Ketcham insisted on working on the dailies himself. Dennis was a single panel strip also by Ketcham's insistence, as he felt no need to draw several panels when he could say everything that needed to be said in just one. Holley did the same for his daily Ponytail panels, and drew on his experience drawing the Dennis Sunday page for his Ponytail Sunday strips. The art style is also reminiscent of Ketcham's, and really was perfect for the setting and the humor Holley was going for.
This particular strip is one that I like a lot, not only because of the 60's music references, but also what the various gifts say about her and her relationship with her parents. The joke is of course about her father wanting to watch the TV more without her hogging it, but I find it interesting that they also got her a set of encyclopedias. Ponytail is portrayed here as not too bright, and it seems clear her parents recognize that and want to help her along a bit. I also enjoy Susie's passing implication that she will be borrowing one or all of those sweaters at some point, probably soon.